South of Broad refers to an exclusive neighborhood on the Charleston peninsula. Wealthy planters and merchants built grand homes here. Many of the larger homes overlook Charleston Harbor. The area is bordered by Broad Street to the west and runs east to Charleston Harbor. The Cooper River and Ashley River bookend the area. Owning a home South of Broad is a sign of wealth and stature since the 1700s! Read on for reasons you'll love South of Broad!
South of Broad Charleston: 5 Reasons to Love It
---
First, Rainbow Row, a historic row of townhomes painted bright, festive colors sits along East Bay Street.
Many visitors seek out this line of homes for a picture of downtown Charleston. It is the subject of many postcards and one of the city's most iconic images. In the summer the crepe myrtles offer an extra bit of scenic magic.
Our second reason to love South of Broad is White Point Garden. This popular park attracts residents and visitors year-round. It sits at the tip of the Charleston peninsula in the South of Broad neighborhood. Local residents love to walk their dogs in the park.
Dogs are permitted off-leash within the park. Majestic live oak trees offer plenty of shade for a relaxing picnic and catching the breezes off the harbor.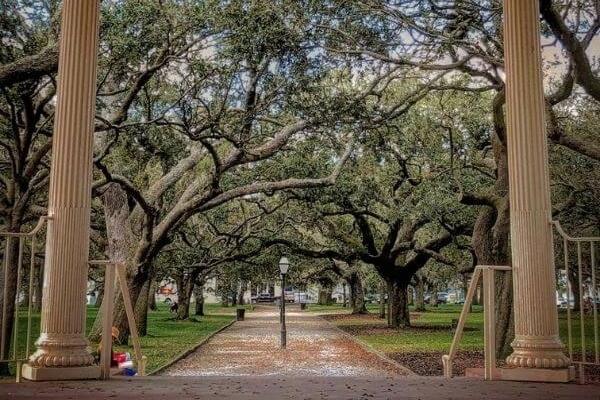 In the summer, the live oak trees offer the perfect nesting ground for the Black Crowned Night Heron birds. They are characteristically social, most often building stick nests in clusters near water.
The birds are primarily active at night, hence the name. However, if you look up you may often hear and see them bouncing around in the treetops.
A charming pavilion anchored in the center of the park serves as an informal wedding venue, or place for a photoshoot!
Next, we love the seawall around the battery. A brisk walk along the seawall offers an elevated view of the area and a great start to the morning!  This is the perfect place to catch an epic, morning sunrise over the Cooper River.
Out in the harbor, you can catch a glimpse of Ft. Sumter, a historic site of the Civil War. The Ravenel Bridge commands an authoritative view. Just beyond, sits the USS Yorktown battleship at Patriots Point.
Our fourth reason to love South of Broad is the elegant homes and architecture. Wealthy merchants and government leaders settled here. These early residents built magnificent homes full of grandeur and detail.
The homes reflect several different architectural styles including Neoclassical, Italianate, Federalist, and later Victorian influences are observed. Soaring columns with fine detail and expansive piazzas frame many homes. Inside, some homeowners did a lot of entertaining.
Several homes include full ballrooms for hosting cotillions or seasonal balls. Artisanal black iron gates crafted by Philip Simmons offer a glimpse of privately, landscaped gardens. Although small in area, these intimate gardens rival gardens in Europe for their beauty.
Our fifth reason to love South of Broad in Charleston is the Ginny Hens. When you stroll through the historic alleyways of South of Broad be on the lookout for the beloved locals.  Actually, you will probably hear them first! These bold birds squawk and parade around like they own the place!
Their origin is unknown, but a pair appeared about 20 years ago. Today you can observe them perched on brick columns, atop the iron gates, scratching around in the azalea bushes, or pitter-pattering down Lamboll Street! They are humorous, adorable and a joy to encounter.
South of Broad Home Sales
---
Now that you have a lay of the land, are you ready to become a local?  Charleston real estate could not be more desirable.  The South of Broad neighborhood is a highly sought-after area offering incredible charm while living in downtown Charleston. Pam Harrington Exclusives Real Estate agents bring decades of local knowledge and professional experience to every transaction.
Buying a historic home involves certain considerations, partner with an agent who knows the right questions to ask and will answer yours!
Begin your search for a home South of Broad by signing up for listing alerts. We will craft a custom search based on your preferences. So, every time a new listing for sale appears you will receive an email link.