Whether it has always been your dream to live on the beach or you're searching for an authentic Southern paradise, it's no secret Charleston is the place to be. From genuine Southern hospitality to stunning landscapes and rich history, the Lowcountry is one of the best coastal towns in South Carolina for buying a home. Explore historic neighborhoods and Spanish moss-lined streets to find your perfect home today. 
Are you moving from the Northeast and looking to simplify your home-buying experience? Tell us exactly what you're looking for, and we'll send exclusive real estate alerts right to your inbox. It's never been easier to find your dream home and you may find these South Carolina beach towns more affordable!

What are the best Coastal Towns in South Carolina for Buying a Home?
With so many wonderful places to reside, it can be challenging to find the perfect place for your family. Some communities boast historical significance or breathtaking landscapes. Others feature opulent resort amenities and championship golf courses. To get you started, we have narrowed the list to three of our favorite areas for homeowners new to the Lowcountry.
While downtown Charleston, SC, is not always the most affordable place to live in South Carolina, residents will tell you that it is one of the best. Recently named the #1 City in the World, Charleston has it all. There are friendly faces, a beautifully preserved history, spectacular scenery, a booming culinary scene, and so much more.
New Construction Opportunities in Historic Charleston
---
The Charles on Broad offers 19 high-end, new construction luxury townhomes overlooking the Charleston Harbor. Luxurious amenities include private elevator, rooftop terrace, private ground level garage and use of rooftop pool and facilities at The Jasper. Learn More
Charleston, SC, is an excellent choice if you are looking for one of the best places to live in South Carolina near the beach. Experience true Southern charm from the Holy City itself.
If you're looking for the charm of the Lowcountry paired with the stillness of the coast, Kiawah Island is the place for you. Just 25 miles from Downtown Charleston, this private island community is a luxurious option.
Five-star amenities are endless on Kiawah. Residents have access to world-class golf courses and tennis, a nature center, a marina, restaurants, spas, fitness centers, and more.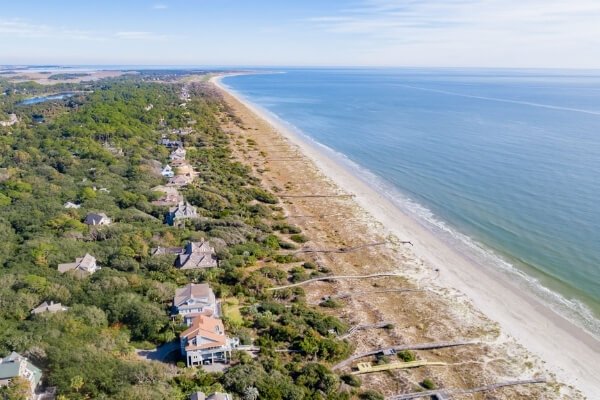 Complete with 10 miles of pristine beach, 30 miles of paved walking and biking trails, effortless access to the inter-coastal waterway for boating, a neighborly shopping district, and unmatched views of the Atlantic, Kiawah Island is one of the best Southern beach towns to move to today. 
New Construction Opportunities on Kiawah Island
---
The Cape on Kiawah West Beach includes ~14 acres of oceanfront property on Kiawah Island to be developed as a luxury condominium complex. Phase 1 is 95% sold out, Phase 2 is taking refundable deposits through September 16, 2021.This "best in class" community will offer high end oceanfront living in West Beach. A private beach club will offer exclusive resort style amenities. Learn More
If your dream home includes views of the wide-open South Carolina beach or the picturesque marsh, Seabrook Island has the protected natural landscape you desire.
This island, located right next to Kiawah Island, is one of the more private coastal towns in South Carolina. It has a slightly more residential feel than its immediate neighbor. However, this does not mean that it lacks in extravagance.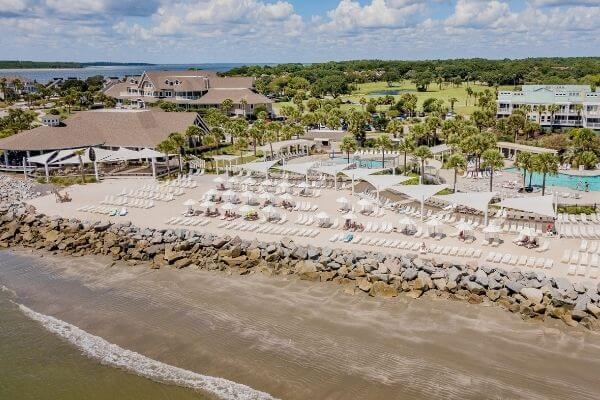 Seabrook Island also features exclusive resort facilities for residents and guests.
These include an equestrian center, golf courses, oceanfront terrace with dining and brand new pools (Summer 2020). It's a popular option for snowbirds off-season, but one visit to Seabrook Island will have you hooked for a lifetime.
South Carolina Property Taxes
South Carolina coastal towns offer more than just a relaxed pace. With the average property tax rate at a mere 0.57%, it stomps the Northeast, which is 79% higher than the rest of the country. 
Moreover, should you decide to become a permanent resident of South Carolina and are over the age of 65, you qualify for a property tax exemption known as The Homestead Tax Exemption.
---
Find Your Dream Home in the Lowcountry With Pam Harrington Exclusives
Kiawah Island, Seabrook Island, and Charleston are three of the best coastal towns in South Carolina for newcomers and area natives alike. Once you have decided on a location, let Pam Harrington Exclusives guide you to a Lowcountry home that you'll love.
Representing a wide variety of real estate for sale on Kiawah Island, Seabrook Island, Johns Island, Wadmalaw Island, and the Charleston area, we will find the perfect fit for your family. Browse our available properties online today. Then, schedule a showing with one of our professional and knowledgeable agents. We look forward to introducing you to the joys of Lowcountry living!